…hoppin' down the bunny trail. Easter has come and gone. Can you believe how quickly this year is going by? We had a nice day at Grandma Ruth's house. The kids had a blast looking for the Easter eggs and brunch was tasty, as always.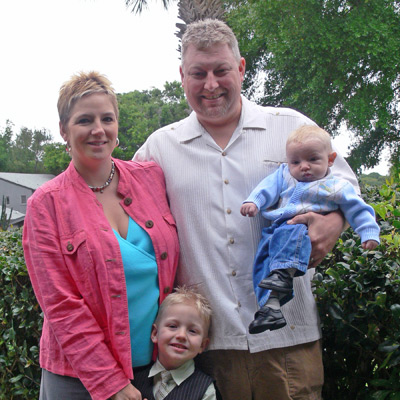 Zachary looked so handsome in the Easter suit that Nana bought for him. I love the green pinstripes and the cool tie. Surprisingly enough, Zachary thought the suit was "cool" which is why we didn't have any trouble getting him to wear it. He even liked the dress shoes once we pointed out Jonah had the same ones. (It was the idea of Baby Jonah copying Big Brother that did it.) Check out the slideshow to see all the festivities.
Of course, this day is always mixed for me. Being around so many grandmothers really emphasizes the fact that mine is gone. Easter was always a fun holiday for me as a kid. Dressing up, hunting for eggs, Easter dinner with all of my favorite foods, finally getting to play pinochle with the grown-ups–there are so many great Easter memories. I choose to celebrate my grandma by remembering the good times. I think that's what she would've wanted.