That pretty much sums up how I feel about the grocery store. There's guaranteed to be at least one argument a week between me and Chris due to something we need because I've been abducted by aliens put off going to the store.
In an attempt to stave off that argument during the upcoming week I bit the bullet and not only went to the grocery store, but went with Jonah. While these trips are not enjoyable to me, there is one thing I DO love: saving money. During today's excursion, I saved…
…$48.00 off of my total grocery bill! Seriously. At checkout, my total was originally 171.54 and by the time I was done, it was 123.36. My mom would be so proud!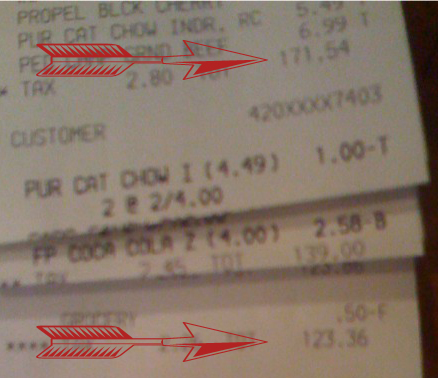 While it's not really rocket science, saving money weekly at the grocery store does take some planning, and a little effort. Here's how I do it:
A menu and a list. ((Planning your menu a week in advance also has the advantage of keeping you organized, and in my case, sane.)) Armed with your menu, go through your fridge, freezer, and cupboards to see what you already have. Then you can write down what you need. I never enter the grocery store (except for an emergency trip) without my list.
I also recommend sticking to the list. For the most part, if I didn't write it down at home I don't need it. This helps me avoid buying impromptu, unnecessary things that the stores are trying to ram down my throat.
Coupons. D'uh! I know you're thinking this one's pretty obvious, however, you'd be amazed to know how many people don't use coupons when they shop. For some it's the worry of appearing 'cheap' or 'poor'; for others it's the time needed to clip and organize coupons; and some people just don't think of it. IMHO, there is no reason good enough to shop without coupons.
I know I'm not cheap, ((I may be easy, but I'm never cheap 😉 )) and I know I'm not poor. I could care less what the person behind me thinks. I'm laughing all the way to the bank.
I spend maybe 45 minutes a week—and that's a high estimate#&8212;clipping and organizing my coupons. The way I see it, this week I earned $48 in 45 minutes. Not bad.
If you haven't thought of it before, maybe you will after reading this post. 🙂
It really doesn't/shouldn't take that long to clip coupons. Set aside an hour armed with the Sunday paper, the scissors, and a coupon organizer ((I bought my coupon organizer at the dollar store—for a dollar!)) Clip your coupons and place them in the organizer. And while you're doing this, remove any coupons you have that are expired. They won't be honored.
Two final tips about coupon-clipping:
Don't clip coupons for items like BBQ-frosted flakes, or anything else you know you will never buy.
Along those lines, however, be flexible. If you see a coupon for a product made by a brand you don't normally buy, try it.
Store cards. If your store requires a card (like Winn-Dixie and Albertsons) to get store specials, just do it.
Store specials. Once you're a "card member" take advantage of store specials! The two major grocery chains in my neighborhood both offer weekly buy-1-get-1-free specials and I take full advantage. As with coupons, don't buy things you know you won't use even if it is BOGO.
Take advantage of store coupons. I dislike going to Winn-Dixie, however, since it is much closer than Publix, I am forced to shop there at times. What I do like is their coupon machine. Every visit I'm sure to get some coupons with my receipt and one of these coupons is always a $10 off coupon (with an expiration date). I hoard these! There have even been times when I've had more than one and have shared the wealth with an unsuspecting shopper.
ATTENTION PUBLIX SHOPPERS: If you shop at Publix, you should know that they take competitor's coupons. More often than not I will take my Winn-Dixie $10 off coupons and redeem them at Publix. ((Check out your local Publix just in case, however, before presenting them with a competitor's coupon.))
By following the steps above I average a savings of approximately $40/week. Unfortunately, this month those savings will be going to our energy bill.
---
This post was generously brought to you by small business opportunity. There are some businesses for sale. In this economy? Who knew?
---