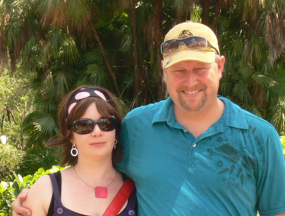 So a week ago Sunday I received a call from our good friend Niamh (pronounced Neeve). She was looking to go somewhere for a quickie vacation and decided to head to Orlando. Woo hoo! Our first non-relative visitor from Denver.

Well, she never actually made it to our house. Why would she when she had a room at the swanky-panky Peabody. We don't have a duck walk twice a day, nor do we offer room service (if you want toast here, you'd better be ready to butter it yourself!). Even so, we saw quite a bit of her, and had a great time at Seaworld. The weather was hot, hot, hot, but that didn't stop us. We saw the dolphin and whale show, the Pirate show, and the rockin' Shamu Rocks show which was pretty cool since it was at night.
Everyone was pretty well-behaved–even Jonah seemed to enjoy himself, although he didn't like the noisy guy yelling into the mike at the pirate show. All in all it was a splendid day. Here's the slideshow. As always, give it a few minutes to load, click on the "Show Photo Albums" link in the bottom-right corner, and select the last show.