Unless you are living under a rock, or geocaching in a 3rd world country, you know that Barack Obama was sworn in yesterday as the 44th president of the United States. I had the events playing in the background while I worked, and was able to watch as he took his oath. It was truly a momentous day and I'm proud to say that I was a part of it.
I've had a chance to digest the events, think about them, and study my reactions. These are my thoughts on yesterday's inauguration:
I think it's pretty amazing that there were 1.8 million people in and around the National Mall, and there were no problems. Seriously. Not a single arrest according to USA Today. Now that is a truly a feat. Could we, as a nation, possibly be coming together afterall?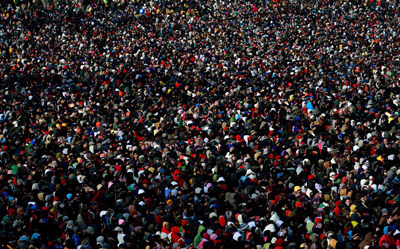 How cool is it that Obama was sworn in with the same bible that Abraham Lincoln was sworn in with? That fills me with a sense of wonder. I alternate between thinking they were crazy to let the book out of the archives in that weather, and thinking that the person who thought of it should win some kind of an award.
Of course I loved Michelle's inaugural ensemble. I found it very regal and fitting. I'm thrilled she decided against something red, white, and/or blue, which is so obvious and cliché.
I'm a total hypocrite, but while I still agree in the separation of church and state and was annoyed by all of the praying yesterday ((It's an inauguration, not a church social.)), I have to admit that the quote from Scriptures couldn't have been more fitting.

"…the time has come to set aside childish things. The time has come…to carry forward that precious gift, that noble idea…that all are equal, all are free and all deserve a chance to pursue their full measure of happiness."
Oh yeah, I thought the rest of the inauguration speech kicked ass too.
I absolutely loved Malia and Sasha. What a pair of spunky, beautiful girls. The secret service is going to have their hand full with those two!
Could Beyonce have sounded any better at the Neighborhood Ball? ((Bitch!)) I think, however, this is the first time she's been on stage, and was upstaged.
With such a long and event-filled day, there was bound to be some crap:
While I'm the antithesis of a Bush supporter, the booing when he was announced was tacky and in poor taste. The man was the leader of the free world for eight years, and as such does deserve a little respect.
She may have been the Queen of Soul at one point, ((20 years ago!)) but she certainly did not sound regal (or even good) yesterday. I was a little embarrassed for her. And what was with that horrible hat?
Since this was the first inauguration I've ever paid attention to, I was surprised by all of the religion (especially with all of the fuss regarding the separation of church and state). As I mentioned previously, I thought the Scriptures quote was á propos, the rest, however, was a little too much for me.
I have to say the low point for me was Sting. Anyone who knows me, knows that I love Sting. Always have. Not only is he so talented he can leave a band like The Police and do even better solo, he's just H-O-T! I liked his Dune phase. ((Sting in black leather–what's not to love.)) I was okay with the long hair, mid-life crisis phase. I adore the super-short, yoga thing. I do not, however, approve of the I'm-a-lumberjack-and-I'm-okay phase.
Enough said.
Now it's your turn. What did you love or hate about Barack Obama's inauguration? Let me know what should be on my love/hate list, and why.