Wordless Wednesday is on a break today, to allow for Blog Action Day. This year's theme is poverty.
During this time of financial crisis in our country, it is understandable that people are tightening their wallets and worrying about themselves and their own. Times are tough for (almost) everyone. If you are reading this blog, however, I'm guessing that you have eaten a decent meal recently. I'd also be willing to bet there is a beverage sitting precariously close to your keyboard: coffee, soda, water (in my case, all of the above).
Those of you reading this in FLA still have your central air on (though your bill keeps going up), and those of you reading this in Denver have probably just started turning your heat on at night. You're sitting now at your own computer, with some lights on somewhere, your cellphone charging, your iPod plugged in, and only a quarter tank of gas in your car. Or you're at work.
Those of you reading this blog (and I know who you are because you are my friends and my family 🙂 ) are definitely not rich. But you are not poor, either. Things are tough, but there is still money for a decent meal, cold water, energy, a computer, the internet, a cellphone, gas, etc., etc., etc.
On this, Blog Action Day for Poverty, I'm asking you to consider your surroundings. Be thankful for all that you are blessed with. Take the time to appreciate all you have. Many are not so fortunate.
This is what poverty looks like in America: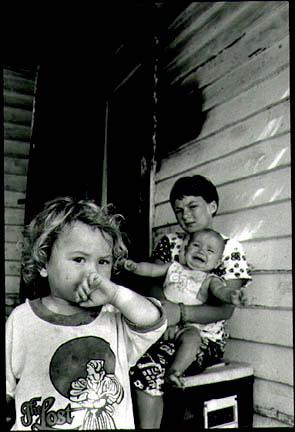 And this is what poverty looks like in Africa: